Shining Black, annunciato il nuovo album
Il 20/01/2022, di Roberto Villani.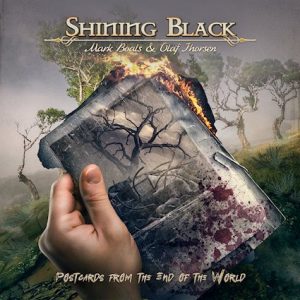 E' prevista per il 18 marzo 2022, l'uscita del secondo album in studio di Shining Black, 'Postcards From The End Of The World'. Gli Shining Black sono una band di metal melodico, nata dall'unione delle forze da parte del cantante Mark Boals (Yngwie Malmsteen, Ring Of Fire, Royal Hunt) e del chitarrista Olaf Thorsen (Labyrinth, Vision Divine).
Di seguito la tracklist dell'album e come anteprima,  il video della title track .
1. Postcards From The End Of The World
2. Higher Than The World
3. We Are Death Angels
4. Summer Solstice Under Delphi's Sky
5. Like Leaves In November
6. A Hundred Thousand Shades Of Black
7. Faded Pictures Of Me
8. Mirror Of Time
9. Fear And Loathing
10. Time Heals, They Say
Total length: 0.49.31