Trans-Siberian Orchestra, annunciato il tour invernale
Il 29/08/2023, di Fabio Magliano.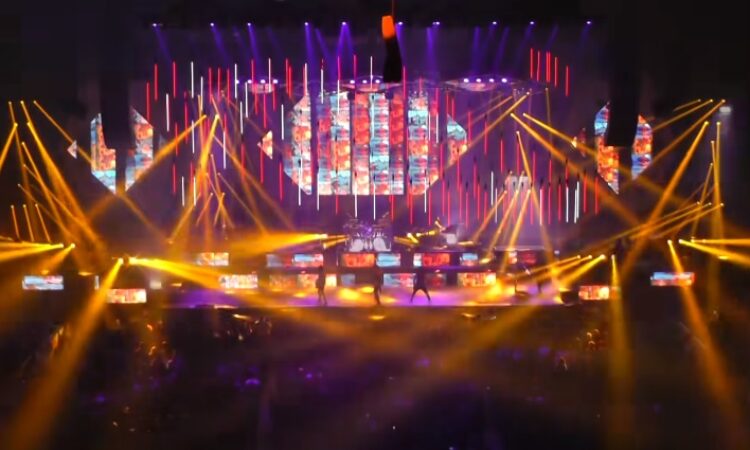 Preparatevi a un viaggio musicale senza precedenti quest'inverno: la Trans-Siberian Orchestra (TSO) diffonderà vibrazioni rock durante il suo spettacolare tour annuale per le festività. Oggi il gruppo rock multi-platino, che negli ultimi 15 anni ha sempre raggiunto i vertici delle classifiche di vendita, ha svelato i dettagli del suo attesissimo tour invernale del 2023, intitolato "The Ghosts Of Christmas Eve – The Best Of TSO And More". Il tour di quest'anno promette una nuova e più ampia presentazione dell'amata tradizione natalizia "The Ghosts of Christmas Eve", che ha catturato i cuori di più generazioni. La tournée prenderà il via il 15 novembre con spettacoli accattivanti a Green Bay, Wisconsin e Council Bluffs, Iowa. Nel corso del tour, la TSO visiterà 62 città americane, offrendo ben 104 spettacoli prima di concludersi il 30 dicembre.
Le prevendite per i membri del fan club dei TSO si terranno giovedì 7 settembre alle 10.00 ora locale e venerdì 8 settembre alle 10.00 ora locale. La vendita al pubblico inizierà venerdì 15 settembre alle 10.00 ora locale. A partire dalla vendita al pubblico, i biglietti speciali da 39 dollari saranno disponibili per una settimana o fino a esaurimento scorte.
2023 winter tour: "The Ghosts Of Christmas Eve: The Best Of TSO And More"
Nov. 15 – Green Bay, WI – Resch Center – 2:30 PM & 7:30 PM
Nov. 15 – Council Bluffs, IA – Mid-America Center – 7:30 PM
Nov. 16 – Lincoln, NE – Pinnacle Bank Arena – 7:30 PM
Nov. 17 – Charleston, WV – Charleston Coliseum – 7:30 PM
Nov. 18 – Greenville, SC – Bon Secours Wellness Arena – 4:00 PM & 7:30 PM
Nov. 18 – Denver, CO – Ball Arena – 4:00 PM & 7:30 PM
Nov. 19 – Greensboro, NC – Greensboro Coliseum – 4:00 PM & 7:30 PM
Nov. 19 – Colorado Springs, CO – Broadmoor World Arena – 2:00 PM & 7:30 PM
Nov. 21 – Salt Lake City, UT – Delta Center – 4:00 PM & 7:30 PM
Nov. 22 – Allentown, PA – PPL Center – 7:30 PM
Nov. 24 – Manchester, NH – SNHU Arena – 4:00 PM & 7:30 PM
Nov. 24 – Spokane, WA – Spokane Arena – 7:30 PM
Nov. 25 – Worcester, MA – DCU Center – 4:00 PM & 7:30 PM
Nov. 25 – Seattle, WA – Climate Pledge Arena – 4:00 PM & 7:30 PM
Nov. 26 – Uncasville, CT – Mohegan Sun Arena – 4:00 PM & 7:30 PM
Nov. 26 – Portland, OR – Moda Center – 4:00 PM & 7:30 PM
Nov. 29 – Albany, NY – MVP Arena – 7:30 PM
Nov. 29 – San Jose, CA – SAP Center – 7:30 PM
Nov. 30 – Rochester, NY – Blue Cross Arena – 7:30 PM
Nov. 30 – Fresno, CA – Save Mart Center – 7:30 PM
Dec. 1 – Toledo, OH – Huntington Center – 4:00 PM & 7:30 PM
Dec. 1 – Sacramento, CA – Golden 1 Center – 4:00 PM & 7:30 PM
Dec. 2 – Buffalo, NY – KeyBank Center – 4:00 PM & 7:30 PM
Dec. 2 – Ontario, CA – Toyota Arena – 4:00 PM & 7:30 PM
Dec. 3 – Toronto, ON – Scotiabank Arena – 4:00 PM & 7:30 PM
Dec. 3 – Phoenix, AZ – Footprint Center – 4:00 PM & 7:30 PM
Dec. 6 – Nashville, TN – Bridgestone Arena – 7:30 PM
Dec. 6 – Wichita, KS – INTRUST Bank Arena – 7:30 PM
Dec. 7 – Knoxville, TN – Thompson-Boling Arena – 7:30 PM
Dec. 7 – Oklahoma City, OK – Paycom Center – 7:30 PM
Dec. 8 – Columbia, SC – Colonial Life Arena – 4:00 PM & 7:30 PM
Dec. 8 – Ft Worth, TX – Dickies Arena – 4:00 PM & 7:30 PM
Dec. 9 – Charlotte, NC – Spectrum Center – 4:00 PM & 7:30 PM
Dec. 9 – San Antonio, TX – AT&T Center – 4:00 PM & 7:30 PM
Dec. 10 – Atlanta, GA – Gas South Arena – 2:00 PM 7:30 PM
Dec. 10 – Houston, TX – Toyota Center – 2:30 PM & 7:30 PM
Dec. 13 – Raleigh, NC – PNC Arena – 7:30 PM
Dec. 13 – New Orleans, LA – Smoothie King Center – 7:30 PM
Dec. 14 – Washington, DC – Capital One Arena – 7:30 PM
Dec. 14 – Memphis, TN – FedExForum – 7:30 PM
Dec. 15 – Hershey, PA – Giant Center – 4:00 PM & 7:30 PM
Dec. 15 – Tulsa, OK – BOK Center – 7:30 PM
Dec. 16 – Pittsburgh, PA – PPG Paints Arena – 2:30 PM & 7:30 PM
Dec. 16 – Kansas City, MO – T-Mobile Center – 2:30 PM & 7:30 PM
Dec. 17 – Philadelphia, PA – Wells Fargo Center – 4:00 PM & 7:30 PM
Dec. 17 – St Louis, MO – Enterprise Center – 2:30 PM & 7:30 PM
Dec. 20 – Elmont, NY – UBS Arena – 7:30 PM
Dec. 20 – Birmingham, AL – BJCC – 4:00 PM & 7:30 PM
Dec. 21 – Wilkes-Barre, PA – Mohegan Sun Arena at Casey Plaza – 2:30 PM & 7:30 PM
Dec. 21 – Jacksonville, FL – VyStar Veterans Memorial Arena – 7:30 PM
Dec. 22 – Cleveland, OH – Rocket Mortgage FieldHouse – 4:00 PM & 7:30 PM
Dec. 22 – Orlando, FL – Amway Center – 2:30 PM & 7:30 PM
Dec. 23 – Detroit, MI – Little Caesars Arena – 4:00 PM & 7:30 PM
Dec. 23 – Tampa, FL – Amalie Arena – 2:30 PM & 7:30 PM
Dec. 26 – Grand Rapids, MI – Van Andel Arena – 4:00 PM & 7:30 PM
Dec. 26 – Indianapolis, IN – Gainbridge Fieldhouse – 4:00 PM & 7:30 PM
Dec. 27 – Milwaukee, WI – Fiserv Forum – 4:00 PM & 7:30 PM
Dec. 28 – Dayton, OH – Nutter Center – 4:00 PM & 7:30 PM
Dec. 28 – Chicago, IL – Allstate Arena – 4:00 PM & 7:30 PM
Dec. 29 – Cincinnati, OH – Heritage Bank Center – 4:00 PM & 7:30 PM
Dec. 30 – Columbus, OH – Nationwide Arena – 4:00 PM & 7:30 PM
Dec. 30 – St Paul, MN – Xcel Energy Center – 4:00 PM & 7:30 PM