What's In The Box (1) – 'Detroit Stories' di Alice Cooper
Il 22/03/2021, di Redazione.
In: What's In The Box.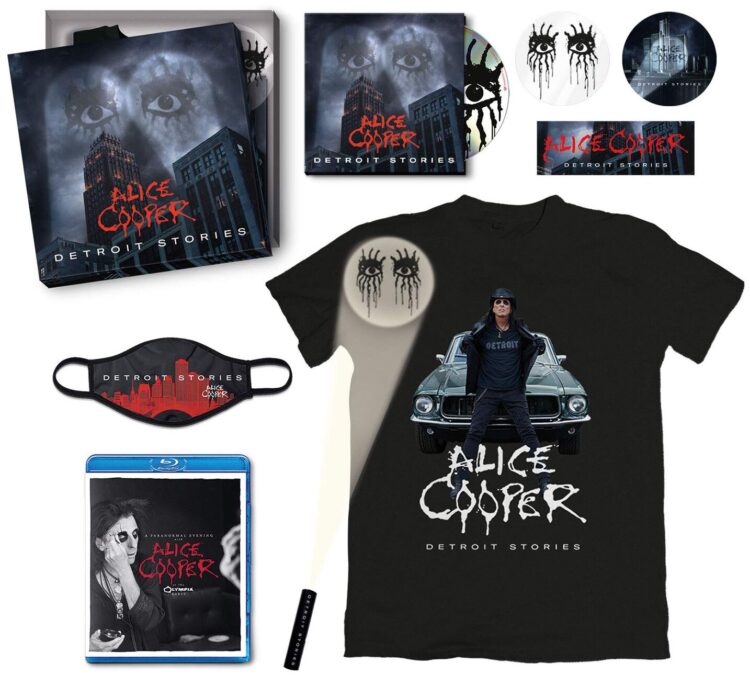 Il 26 gennaio 2021 è uscito il nuovo disco di Alice Cooper. Oggi il nostro direttore Alex Ventriglia vi mostra cosa c'è all'interno del box uscito in edizione limitata. A questo indirizzo un articolo speciale della release, sempre firmato da Alex Ventriglia.
Cosa c'è nel box?
– 1 CD digipak
– 1 disco Blu-Ray
– T-shirt (taglia XL)
– piccola torcia che proietta gli occhi di Alice Cooper
– mascherina
– 3 sticker

Il nuovo album in studio della shock rocker Alice Cooper si chiama 'Detroit stories'. La grande città del Michigan ha sempre avuto un posto nel cuore del rocker che ora vive in Arizona, come ama sottolineare. Qui è nato e vede la culla dell'hard rock. Tutto nel nuovo album dovrebbe ruotare attorno alla città e al suo sound. Wayne Kramer e Mark Farner, tra gli altri, sono coinvolti. E ovviamente è coinvolto anche il produttore di lunga data Bob Ezrin, che Cooper chiama sempre il suo George Martin.
Il Blu-ray contiene l'incredibile live performance 'A Paranormal Evening at The Olympia Paris', per la prima volta su video.
Su EMP Italia puoi ordinare la versione che preferisci di 'Detroit Stories' 👉 http://emp.me/1rdx
✅ CD (Jewelcase)
✅ 2 LP colorati (rossi) in esclusiva EMP, limitati a 500 copie
✅ 2 LP neri
✅ CD + DVD Digipak
✅ CD Box set (CD, Blu Ray, T-Shirt, mascherina, torcia e 3 sticker) in edizione limitata

Tracklist:
01. Rock 'n' Roll
02. Go Man Go (Album Version)
03. Our Love Will Change The World
04. Social Debris
05. $1000 High Heel Shoes
06. Hail Mary
07. Detroit City 2021
08. Drunk And In Love
09. Independence Dave
10. I Hate You
11. Wonderful World
12. Sister Anne
13. Hanging On By A Thread (Don't Give Up)
14. Shut Up And Rock
15. East Side Story