Any Given Day – My Longest Way Home
Il 01/12/2014, di Stefano Giorgianni.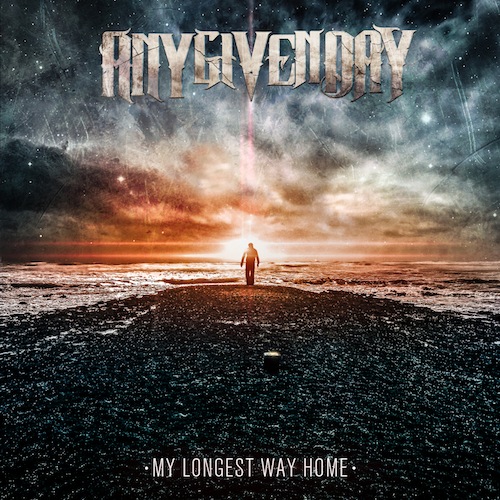 Gruppo: Any Given Day
Titolo Album: My Longest Way Home
Durata: 44 min.
Etichetta: Redfield Records
80
Si sa, il metalcore è un genere in espansione, popolato da band sempre più giovani, preparate e motivate, anche se è estremamente raro venir sorpresi da un album, soprattutto di un gruppo al debutto discografico. Eppure stavolta l'inaspettato ci coglie, l'imprevedibile sbalordisce, in un'ondata di aggressività e melodia che porta il nome di Any Given Day. La Germania, o meglio la città di Gelsenkirchen, terra fertile dalla quale nascono incessantemente band di qualsiasi genere, è il luogo d'origine di questo quintetto metalcore. I componenti della band provengono da altri gruppi, tutti con background -core, e nel 2012 si sono riuniti per formare questo progetto. La notorietà arriva quasi subito, con il video della cover di 'Diamonds' di Rihanna, che in poco tempo raggiunge i 2.5 milioni di visualizzazioni (nel momento in cui si scrive sono più di 3). Ora arriva questo notevole debut album, 'My Longest Way Home', un concentrato di metalcore melodico, hardcore, qualche sprazzo djent, con protagonista il roccioso cantante Dennis Diehl, capace di muoversi agevolmente tra il clean e un misto di growl/scream, molto vicino allo stile del grande Howard Jones e di Jesse Leach. Un album che spazia dalla misurata violenza hard/metalcore dell'opener 'Darkness Within', passando per le litigiose melodie di 'Dead and Gone', il djent di 'The Beginning of the End', l'implacabile 'Anthem for the Voiceless', l'highlight 'Home Is Where The Heart Is' in stile Killswitch Engage, la devastante e maligna 'My Own Sweet Hell', la semi-ballad 'Dead Forever', nella quale Diehl mostra la sua versatilità, la granitica 'Never Say Die', l'elaborata 'If Tomorrow Never Shows', per finire su un ritorno djentiano con l'infernale 'Possession'.
Gli Any Given Day hanno quindi forgiato un debut album di tutto rispetto, vario e assolutamente non monotono. Consigliato a tutti gli amanti del -core e da mettere in lista fra i migliori dischi del genere di questo 2014.
Tracklist
01. Darkness Within
02. Dead and Gone
03. The Beginning of the End
04. Anthem For the Voiceless
05. Home Is Where the Heart Is
06. My Own Sweet Hell
07. Dead Forever
08. Never Say Die
09. If Tomorrow Never Shows
10. Possession
Lineup
Dennis Diehl: vocals
Andy Posdziech: guitars
Dennis Ter Schmitten: guitars
Michael Golinski: bass
Raphael Altmann: drums