Billie Joe Armstrong – No Fun Mondays
Il 18/12/2020, di Alessandro Ebuli.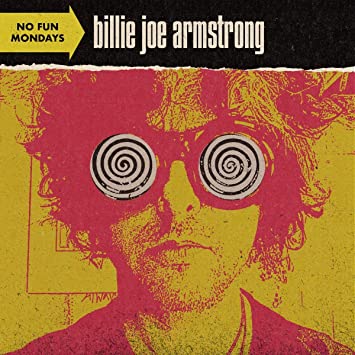 'No Fun Mondays' è il disco di cover che Billie Joe Armstrong ha deciso di pubblicare durante il periodo di lockdown causato dalla pandemia. Ognuno ha fatto del proprio meglio per superare quei duri momenti che si spera non si ripetano più in futuro, e cosa avrebbe potuto fare un musicista se non suonare? Billie Joe lo ha fatto con i suoi figli e il risultato è davvero apprezzabile. Sentivamo il bisogno di questo album? È la domanda che ricorre mentre lo ascolto per la terza volta consecutiva. La risposta è sì, perché quando un disco è fatto bene e si lascia apprezzare in quanto scorre fluido e diverte l'ascoltatore allora il risultato ottenuto è senza dubbio positivo. Nel complesso sembra di ascoltare i Green Day più pop – quelli dal duemila in poi dirà qualcuno – e bene è proprio così, ma nel senso più positivo possibile. Tra i brani più significativi troviamo 'Manic Monday' delle Bangles, 'Corpus Christi' dei The Avengers,  'Not That Way Anymore' di Stiv Bators, 'Gimme Some Truth' di John Lennon, 'A New England' di Billy Bragg, 'You Can't Put Your Arms Around A Memory' di Johnny Thunders, 'I Think We're Alone Now" di Tommy James and the Shondells, 'Police On My Back' di Eddie Grant nella classica versione Clash Style ormai straconosciuta. Incuriosisce ascoltare Billie Joe cantare in italiano il brano 'Amico' di Don Backy – un artista che ha fatto la storia della musica italiana e troppo poco apprezzato in patria – soprattutto perché viene da chiedersi per quale motivo abbia scelto proprio quel brano fra molti altri della nostra storia pop ben più conosciuti all'estero.
'No Fun Mondays' è un disco che non passerà alla storia per originalità o perché abbia la pretesa di cambiare il corso della musica – tantomeno della carriera di Armstrong – ma sa fare colpo sul fruitore regalando qualche minuto di freschezza e divertimento con una manciata di brani di indiscusso valore che se da un lato hanno sicuramente divertito l'autore allo stesso tempo sapranno divertire anche noi ascoltandoli.
Tracklist
01. A New England
02. Gimme Some Truth
03. Dreaming
04. That's Rock 'n' Roll
05. Not That Way Anymore
06. Kids In America
07. Amico
08. War Stories
09. That Thing You Do!
10. Corpus Christi
11. Manic Monday
12. You Can't Put Your Arms Around A Memory
13. I Think We're Alone Now
14. Whole Wide World
15. Police On My Back.
Lineup
Billie Joe Armstrong: vocals, guitar, bass and drums
Bill Schneider: bass
Jason White: guitar
Chris Dugan: drums