Ten- Something Wicked This Way Comes
Il 24/01/2023, di Monica Atzei.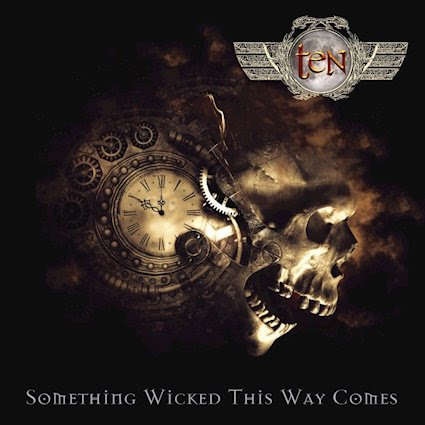 La band hard rock inglese dei Ten pubblica il 20 gennaio il nuovo album 'Something Wicked This Way Comes', nemmeno ad un anno di distanza da 'Here Be Monsters' uscito il 18 febbraio 2022 sempre per la label Frontiers Music s.r.l.
Dieci brani che si ascoltano tutti d'un fiato nella miglior tradizione dell'hard rock e nessuna sbavatura per una band giunta al sedicesimo album in studio.
'Something Wicked This Way Comes' è un disco che coniuga melodia e suoni accattivanti; da annoverare i brani:  'Look For The Rose' che apre le danze e ci immerge in suoni familiari e piacevoli; 'Brave New Lie'  dal riff incisivo;  'Parabellum' caratterizzata da melodie più cupe; la titletrack forgiata sul rock e 'New Found Hope' una ballad dolce e sincera.
Menzione particolare per l'ultima traccia 'The Greatest Show On Earth': ricca e strutturata, epica e  costruita sulla voce del singer Gary Hughes.
'Something Wicked This Way Comes' suona coerente e semplice: un classico dell'hard rock senza fronzoli.
Tracklist
Look For The Rose
Brave New Lie
The Tidal Wave
Parabellum
Something Wicked This Way Comes
The Fire And The Rain
New Found Hope
The Only Way Out
When The Darkness Comes
The Greatest Show On Earth
Lineup
Gary Hughes: Vocals/Backing Vocals/Rhythm Guitars/Programming
Dann Rosingana: Lead guitar
Steve Grocott: Lead Guitar
Steve MacKenna: Bass Guitar
Darrel Treece-Birch: Keyboards
Guest Musician – Marcus Kullman – Drums