Pandora -Ten Years Like In A Magic Dream
Il 24/02/2017, di Angela Volpe.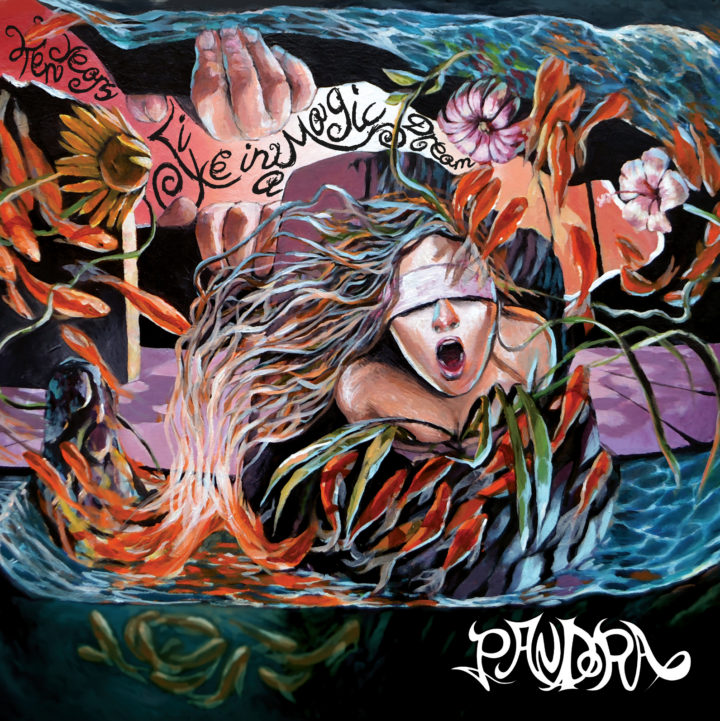 Gruppo: Pandora
Titolo Album: Ten Years Like In A Magic Dream
Genere: Progressive Rock
Durata: 76 min.
Etichetta: AMS Records
65
Gli italiani Pandora escono con un nuovo album per AMS Records, "Ten years like in a magic dream". Anche senza conoscerli, si può intuire il genere proposto a partire dallo stile della copertina, che richiama i colori del capolavoro progressive "In the court of the Crimson King" dei capostipiti del progressive King Crimson. E infatti, ascoltando le composizioni originali dei Pandora, la loro ispirazione musicale è trasparente. Suoni e melodie sembrano uscite dal prog anni settanta, complete di ogni crisma tipico del genere. È davvero encomiabile la capacità di questi musicisti di ricreare alcune atmosfere; la sensazione mentre si ascoltano queste note è di fare un salto indietro nel tempo. Questo album ha un valore affettivo particolare per i Pandora, che festeggiano così i loro dieci anni di musica.
E quale omaggio al grande progressive sono state incluse le cover di 'Second Home by the Sea' dei Genesis, 'Man of a Thousand Faces' dei Marillion, 'Ritual-Part 2' degli Yes e 'Lucky Man' degli Emerson Lake & Palmer, riarrangiate con la voce raffinata della cantante Emoni Viruet.
"Ten years like in a magic dream" è un opera che coinvolgerà i nostalgici del progressive anni settanta, da apprezzare sicuramente per il talento dei musicisti coinvolti.
Tracklist
Fragments of the Present:
01. Always and Everywhere– Overture: Fantasia in Pandora Major
02. The way you are
03. Turin 03.02.1974
04. Drunken Poet's Drama
 Temporal Transition:
05. Passaggio di Stagioni
– Lamenti d'Inverno
– Canto di Primavera (Banco del Mutuo Soccorso)
 Fragments of the Past:
06. Second Home by the Sea (Genesis)
07. Man of a Thousand Faces (Marillion)
08. Ritual – Part 2 (Yes)
09. Lucky Man (Emerson Lake & Palmer)
Lineup
Claudio Colombo: drums, percussions, bass, guitar
, cuatro portoricano, keys

Corrado Grappeggia: vocals, keys