Volbeat, in cima alle classifiche di tutto il mondo con 'Rewind, Replay, Rebound'
Il 17/08/2019, di Olga Occhipinti.
La band rock danese dei Volbeat è entrata al #27 della Billboard Top 200 con il settimo album in studio, 'Rewind, Replay, Rebound'. Il disco è disponibile qui in svariati formati, tra cui un'edizione deluxe in 2CD, uno speciale cofanetto deluxe edition e vinile trasparente e blu, limitati a 1.000 copie ciascuno.
Il singolo 'Last Day Under The Sun' è al #1 della Billboard Mainstream Songs Chart e al #1 dell'Active Rock Radio Chart. Si tratta del settimo primo posto nell'Active Rock, raggiungendo così il record stabilito dagli U2, come band europea con più #1 nella Mainstream Rock Songs.
I Volbeat registrano un grande successo in tutto il mondo e il quartetto non ha alcuna intenzione di fermarsi o rallentare nel 2019. Attualmente impegnato in tour in Nord America con gli Slipknot come special guest del Knotfest Roadshow North American Tour con Gojira e Behemoth, arriverà in Europa da fine settembre con Baroness & Danko Jones. Unica data italiana 14 ottobre al Fabrique di Milano.
'Rewind, Replay, Rebound' è stato prodotto dal collaboratore di lunga data Jacob Hansen e co-prodotto da Rob Caggiano e Michael Poulsen. È il primo disco in studio con Kaspar Boye Larsen al basso. Per ottenere il suono dell'album, la band ha anche invitato una miriade di ospiti. Oltre a lavorare nuovamente con la cantante Mia Maja su diversi brani, si sono anche riuniti con l'Harlem Gospel Choir. Il cantante dei Clutch Neil Fallon è presente in 'Die to Live', come risultato del tour insieme e dell'amore per lo stile rauco e potente del cantante. Anche Raynier Jacob Jacildo (piano) e Doug Corocran (sassofono) della band di JD McPherson mettono a disposizione della canzone il loro talento. 'Cheapside Sloggers' presenta un assolo di chitarra stravagante del chitarrista degli Exodus e degli Slayer, Gary Holt. In definitiva, i Volbeat non hanno perso la passione di creare e progredire.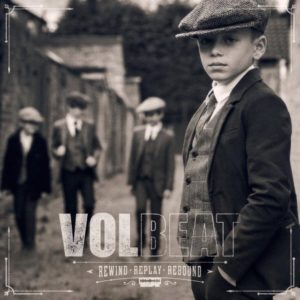 'Rewind, Replay, Rebound' Track Listing
Standard CD/2LP:
1. Last Day Under The Sun
2. Pelvis On Fire
3. Rewind The Exit
4. Die To Live (feat. Neil Fallon)
5. When We Were Kids
6. Sorry Sack of Bones
7. Cloud 9
8. Cheapside Sloggers
9. Maybe I Believe
10. Parasite
11. Leviathan
12. The Awakening of Bonnie Parker
13. The Everlasting
14. 7:24
Deluxe 2CD/Digital
Disc 1:
1. Last Day Under The Sun
2. Pelvis On Fire
3. Rewind The Exit
4. Die To Live (feat. Neil Fallon)
5. When We Were Kids
6. Sorry Sack of Bones
7. Cloud 9
8. Cheapside Sloggers
9. Maybe I Believe
10. Parasite
11. Leviathan
12. The Awakening of Bonnie Parker
13. The Everlasting
14. 7:24
Disc 2:
1. Under The Influence
2. Immortal But Destructible
3. Die To Live
4. Last Day Under The Sun (Demo)
5. Rewind The Exit (Demo)
6. When We Were Kids (Demo)
7. Maybe I Believe (Demo)
8. Leviathan (Demo)