Dobermann, 'Hard Rock Hell 2022' insieme a The Darkness, Skid Row e Ugly Kid Joe
Il 06/11/2021, di Andrea Lami.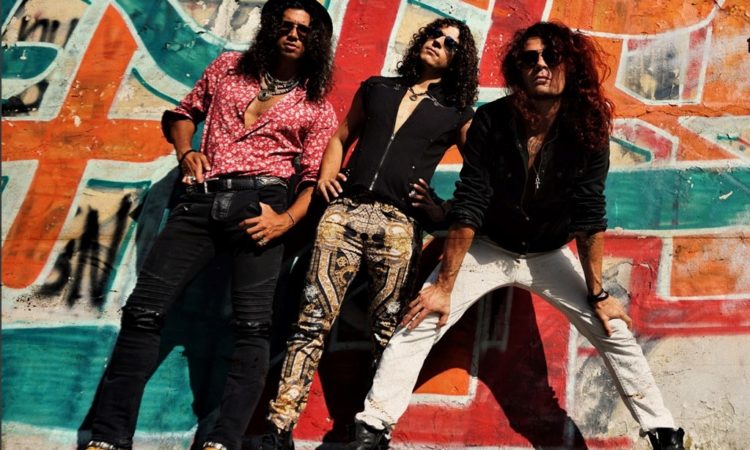 I DOBERMANN saranno sul palco dell'edizione 2022 di 'Hard Rock Hell', importante festival britannico ormai giunto al suo quindicesimo anno. Il gruppo è in cartellone insieme a The Darkness, Skid Row, Girlschool , e molti altri.
La band fondata nel 2011 dal bassista e cantante Paul Del Bello e completata dal chitarrista Valerio 'Ritchie' Mohicano e dal batterista Antonio Burzotta, è  uno dei gruppi più attivi nel circuito rock europeo.
Con alle spalle 800 concerti e 5 album in dieci anni, i Dobermann hanno percorso più di mezzo milione di chilometri in lungo e in largo per Italia, Svizzera, Francia, Austria, Olanda, Belgio, Inghilterra e Germania , suonando centinaia di date in  Spagna e nel Regno Unito, aprendo anche per Great White, the Quireboys, Richie Ramone, Blaze Bayley e Chris Holmes, senza agenzia o management.
Il nuovo disco è stato prodotto da Alessandro Del Vecchio e ed è pieno di nuovi elementi ritmici e melodici, incastonati sul classico rock & roll targato DOBERMANN.
L'album è acquistabile a questo link: www.dobermannweb.net/store
Guarda Il video di 'Stiff Upper Lip' : https://youtu.be/3og078VndEs
Guarda il video del secondo singolo 'Shaken to the core': https://youtu.be/uJe0sFQfO-8
'Shaken To The Core'" tracklist:
01 Shaken To The Core
02 Staring At The Black Road
03 Stiff Upper Lip
04 Dropping Like Flies
05 Over The Top
06 Talk To The Dust
07 Rolling With The Times
08 Summer Devil
09 Rock Steady
10 Run For Shade
11 Last Man Standing
Dobermann on line:
www.dobermannweb.net
www.facebook.com/dobermannrnrband
www.instagram.com/dobermann_official
www.twitter.com/dobermannhq