Corrosion Of Conformity, annunciato un tour europeo a maggio
Il 08/02/2023, di Fabio Magliano.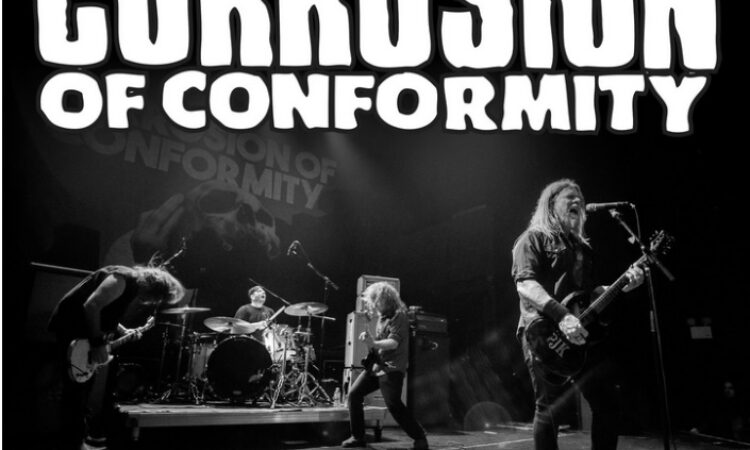 I Corrosion Of Conformity hanno annunciato una serie di date di tre settimane nel Regno Unito e in Europa, tra cui le esibizioni al Desertfest di Londra, al Desertfest di Berlino e al Soulstone Gathering di Cracovia.
CORROSION OF CONFORMITY
UK / EU TOUR MAY 2023
01 May IE, Dublin – Academy
02 May UK, Glasgow – Garage
03 May UK, Wolverhampton – KK's Steel Mill
04 May UK, Cardiff – The Globe
05 May UK, Manchester – Bread Shed
06 May UK, London – Desertfest
08 May DK, Copenhagen – Pumphuset
10 May FR, Paris – Petit Bain
11 May DE, Cologne – Luxor
12 May NL, Eindhoven – Dynamo
13 May DE, Aschaffenburg – Colos-Saal
15 May CH, Zurich – Dynamo
16 May DE, Munich – Backstage Halle
17 May AT, Vienna – Szene
18 May PL, Krakow – Soulstone Gathering Festival
20 May DE, Berlin – Desertfest
21 May BE, Brussels – Botanique
I Corrosion Of Conformity stanno attualmente lavorando a nuovo materiale con il batterista di New Orleans Stanton Moore, per un'eventuale nuova uscita su Nuclear Blast.
L'ultimo album in studio della band, 'No Cross No Crown', è stato pubblicato nel 2018 con un plauso entusiastico da parte di fan e colleghi. L'iconico chitarrista e cantante Pepper Keenan è tornato all'ovile, e 'No Cross No Crown' è il primo album in studio dei C.O.C con Keenan dopo 'In the Arms of God' del 2005.
'No Cross No Crown' suona in qualche modo come se non fosse passato del tempo tra 'In The Arms Of God' del 2005 e oggi. Registrando in North Carolina con il produttore di lunga data John Custer, i C.O.C hanno inciso 'No Cross No Crown' in circa quaranta giorni, nel corso di un anno. Alcune delle nuove jam suonano come se potessero apparire facilmente su 'Wiseblood' o 'Deliverance', due dei dischi più apprezzati dei C.O.C. Robusti stompers sudisti come "The Luddite", "Little Man" e "Forgive Me" sono intervallati da malinconici intermezzi di chitarra come "No Cross", "Matre's Diem" e "Sacred Isolation", proprio come facevano i Sabbath negli anni Settanta.
Ascolta "Cast The First Stone" qui: https://youtu.be/ljxyItzRZm4
Il video animato di Costin Chioreanu per "Wolf Named Crow":