Glenn Hughes – First Underground Nuclear Kitchen
Il 21/05/2008, di Fabio Magliano.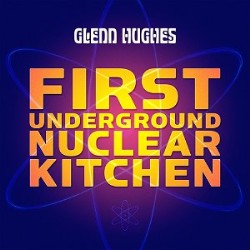 Gruppo: Glenn Hughes
Titolo Album: First Underground Nuclear Kitchen
Genere: Hard Rock
Durata: 52 min.
Etichetta: Frontiers
76
'First Underground Nuclear Kitchen', per gli amici 'F.U.N.K', basta questo per trasformare un titolo apparentemente stupido in una sigla densa di significato. Perchè in queste quattro lettere è contenuto lo spirito più profondo del nuovo lavoro della "Voice Of Rock" per eccellenza. Già, perchè in questo lavoro Mr. Hughes mette momentaneamente da parte le riflessioni spirituali che avevano portato alla nascita del precedente 'Music For The Divine' e si getta a capofitto sul suo primo amore, il funk appunto, dando così vita ad un lavoro frizzante, divertente, scoppiettante, ricco di contagiosa melodia. Ad accompagnarlo a questo giro, oltre all'ormai fido Chad Smith, il virtuoso Luis Maldonado (John Waite, UFO, Michael Schenker), la cui chitarra calda e sensuale si sposa alla perfezione con la voce sempre incredibilmente graffiante di Hughes e con il suo leggendario basso. Un disco che sa scuotere con groove pazzeschi (irresistibile in questo senso la title track) ma che riesce allo stesso tempo a trasudare classe e raffinatezza grazie a soluzioni più d'atmosfera come nel caso di 'You Shall Be Free' (incredibile la prova vocale di Hughes in questo brano), 'Satellite' o 'Where There's A Will'. Splendida poi 'Too Late To Save The World' con i suoi momenti carezzevoli e le sue esplosioni hard rock di grande impatto, ultima pennellata di un quadro riuscitissimo che ci mette faccia a faccia con Hughes e con il suo primo, grande amore.
Tracklist
01. Crave
02. First Underground Nuclear Kitchen
03. Satellite
04. Love Communion
05. We Shall Be Free
06. Imperfection
07. Never Say Never
08. We Go To War
09. Oil And Water
10. Too Late To Save The World
11. Where There's A Will
Lineup
Glenn Hughes: Vocals/ Acoustic Guitar/ Bass/ Electric Funk Guitar
Chad Smith: Drums / Percussion
Luis Carlos Maldonado: Electric Guitars / Acoustic Guitars
JJ Marsh: Electric Guitars on track 9 + 10
George Nastos: Guitars on track 7 + 8
Anders Olinder: Keyboards
Ed Roth: Keyboards on track 2 + 7 / Fender RhodesPiano on track 4
Ana Lenchantin: Cello on track 6