Napalm Death – Coded Smears And More Uncommon Slurs
Il 18/06/2018, di Francesco Faniello.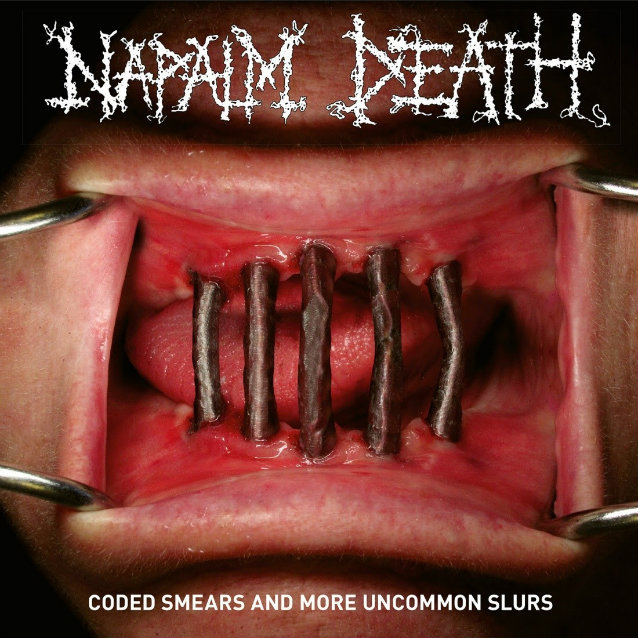 Quando si parla di Napalm Death, dimenticate il concetto di ortodossia. Non esistono aficionados ultraortodossi, non ci sono dischi imprescindibili, è tutto libero e anarchico: è l'essenza del grindcore, il genere che il quartetto originario delle West Midlands ha contribuito a creare e che spesso ha stravolto a proprio piacimento, senza alcuna alzata di scudi da parte di presunti depositari dell'ortodossia. La stessa formazione originaria della band non esiste più, benché la stessa sia una vera e propria leggenda dell'avanguardia britannica. Il tutto sa di tono autoassolutorio per il sottoscritto, ben lontano da conoscere a menadito i circa quindici album da loro pubblicati; tra l'altro, l'unica volta in cui li ho visti dal vivo dietro il microfono c'era Chris Reese dei Corrupt Moral Altar a sostituire il buon Greenway, quindi c'è poco da autoassolvere…
In sostanza, se siete ai vostri primi approcci con i Napalm Death, iniziate pure dal disco che volete: dai primi vagiti sulla lunga distanza con Steer, Broadrick e Dorrian, oppure dal successivo sconfinamento nel death/grind più oltranzista, dal modernismo novantiano di "Diatribes" e "Inside The Torn Apart" o magari dai violentissimi contributi successivi, quelli usciti per Century Media.
È proprio a quel periodo che guarda questa doppia raccolta, "Coded Smears And More Uncommon Slurs", che si configura come una raccolta di cover e outtakes uscite originariamente tra il 2004 e il 2016. Una compilation strana, che ricorda un po' i loro 'Leaders Not Followers' o il doppio 'Sons Of Satan Praise The Lord' degli Entombed, benché il numero di cover sia comunque limitato rispetto agli inserti di pezzi originali. Neanche a dirlo, 'Coded Smears…' (che deve evidentemente il suo nome ai primi due dischi dell'epoca in oggetto) è caratterizzato da una qualità spaventosamente alta, con una scaletta che non manca di presentarci le varie anime della band: la violenza iconoclasta della coppia di apertura 'Standardization' e 'Oh So Pseudo', il piglio lisergico offerto dalla recentissima 'Caste As Waste', il tributo al punk con 'We Hunt In Packs', 'What Is Past Is Prologue' e l'incredibile cover di 'Clouds Of Cancer/Victims Of Ignorance' dei G-ANX, le gelide variazioni dal sapore industrial dello split con i Melvins testimoniate da 'Oxygen Of Duplicity', nonché le folli aperture melodiche di 'Everything In Mono', per tacere dell'omaggio al thrash metal più marcio con 'Lifelin' dei Sacrilege.
L'unico neo è la lunghezza della tracklist, che però risulta al contempo esauriente al millimetro, pescando dalle versioni speciali e dai tanti split realizzati da Shane Embury e soci… perciò, in un solo colpo vi beccate un bel doppio con ben novanta minuti di grindcore antiortodosso e perciò purissimo, un disco incredibilmente solido nella sua varietà e nella sua copertura di tutte le sfaccettature della Morte al Napalm: tornando alla domanda di sopra, perché non iniziare (o continuare) da qui il vostro viaggio alla scoperta dei Napalm Death?
Tracklist
CD1:
01. Standardization
LP-only bonus track from 'Utilitarian' album sessions 2011
02. Oh So Pseudo
Bonus track from 'Apex Predator – Easy Meat' album sessions 2014
03. It Failed To Explode
Japan-only bonus track from 'Utilitarian' album sessions 2011
04. Losers
Bonus track from 'The Code Is Red…Long Live The Code'' album sessions 2004
05. Call That An Option?
Bonus track from 'Smear Campaign' album sessions 2006
06. Caste As Waste
Japan-only bonus track from 'Apex Predator – Easy Meat' album sessions 2014
07. We Hunt In Packs
Japan-only bonus track from 'Time Waits For No Slave' album sessions 2008
08. Oxygen Of Duplicity
From Melvins Split EP, recorded 2013
09. Paracide
Gepopel cover / Japan-only bonus track from 'Apex Predator – Easy Meat' album sessions 2014
10. Critical Gluttonous Mass
Bonus track from 'Apex Predator – Easy Meat' album sessions 2014
11. Aim Without An Aim
Bonus track from 'Utilitarian' album sessions 2011
12. An Extract (Strip It Clean)
From Split EP with Heaven Shall Burn, recorded 2014
13. Phonetics For The Stupefied
From Split EP with Voivod, recorded 2014
14. Suppressed Hunger
Bonus track from 'Time Waits For No Slave' album sessions 2008
15. To Go Off And Things
Cardiacs cover / From Split EP with Melvins, recorded 2013
CD2:
01. Clouds of Cancer / Victims Of Ignorance
G-ANX cover / Bonus track from 'Apex Predator – Easy Meat' album sessions 2014
02. What Is Past Is Prologue
Bonus track from 'Apex Predator – Easy Meat' album sessions 2014
03. Like Piss To A Sting
From Split EP with Melt Banana, recorded 2014
04. Where The Barren Is Fertile
From Split EP with Melt Banana, recorded 2014
05. Crash The Pose
Gauze cover / Japan-only bonus track from 'The Code Is Red…Long Live The Code'' album sessions 2004
06. Earthwire
Download only as DZI Foundation benefit following the 2015 Nepal earthquake, recorded 2014
07. Will By Mouth
From Split EP with Converge, recorded 2012
08. Everything In Mono
Bonus track from 'Utilitarian' album sessions 2011
09. Omnipresent Knife In Your Back
Bonus track from 'Time Waits For No Slave' album sessions 2008
10. Lifeline
Sacrilege cover / From 'Respect Your Roots Worldwide' compilation, recorded 2011
11. Youth Offender
B-Side from 'Analysis Paralysis' EP; recorded 2011
12. No Impediment To Triumph (Bhopal)
From Split EP with Converge, recorded 2012
13. Legacy Was Yesterday
From Decibel magazine Flexi EP, recorded 2010
14. Outconditioned
Despair cover / From 'Covering 20 Years Of Extremes' compilation, recorded 2008
15. Atheist Runt
Bonus track from 'Smear Campaign' album sessions 2006
16. Weltschmerz (Extended Apocalyptic Version)
Bonus track from 'Smear Campaign' album sessions 2006
Lineup
Barney Greenway: vocals
Shane Embury: bass
Mitch Harris: guitars
Danny Herrera: drums