Thirty Seconds to Mars @Collisioni Festival AgriRock – Barolo (CN), 7 luglio 2019
Il 09/07/2019, di Alice Ferrero.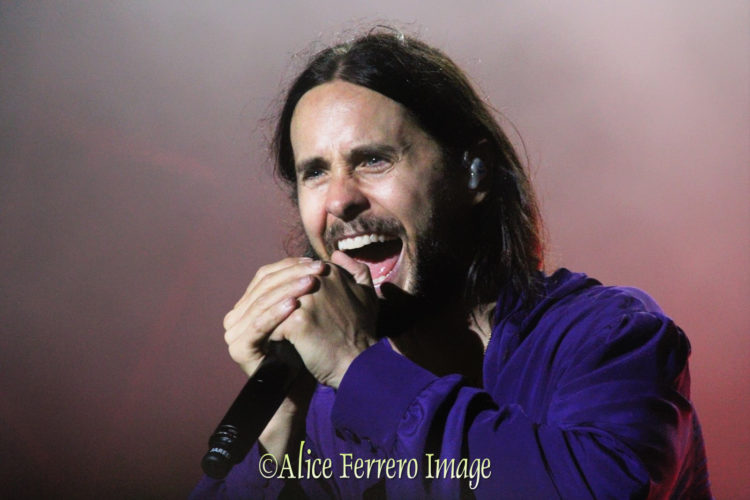 Concerto da sold out a Barolo, con i Thirty Seconds to Mars che scuotono la Piazza Rossa con il loro alternative rock, portando un pizzico di sana energia al festival AgriRock Collisioni.
L'attore/cantante Jared Leto ha scatenato i migliaia di fans assiepati "all'ombra" del castello, dando vita a uno spettacolo coinvolgente, ricco di effetti e di trovate divertenti.E a partire dall'esplosione di grandi stelle filanti, proseguendo con il lancio di enormi palloni colorati per giocare con la platea, seguiti da salvagenti e gonfiabili da spiaggia, lo show è stato un susseguirsi di sorprese, che non hanno disatteso le aspettative del pubblico.  Addirittura, a metà concerto, 3 ragazzi dalla platea sono stati invitati a salire sul palco a cantare insieme a Leto e più tardi, un buon numero di fortunati tra i presenti scelti tra il pubblico, hanno fatto da cornice on stage alla performance che volgeva al termine.
Questa la scaletta del concerto di Barolo:
Monolith
Up in the Air
Kings and Queens
This Is War
Dangerous Night
Hail to the Victor
City of Angels
Rescue Me
Do or Die
Remedy
The Kill (Bury Me)
From Yesterday
Vox Populi
Alibi
Hurricane
The Kill (Bury Me)
Walk on Water
FOTO DI ALICE FERRERO IMAGE