Slash Feat. Myles Kennedy & The Conspirators – Living The Dream
Il 27/09/2018, di Maria Teresa Balzano.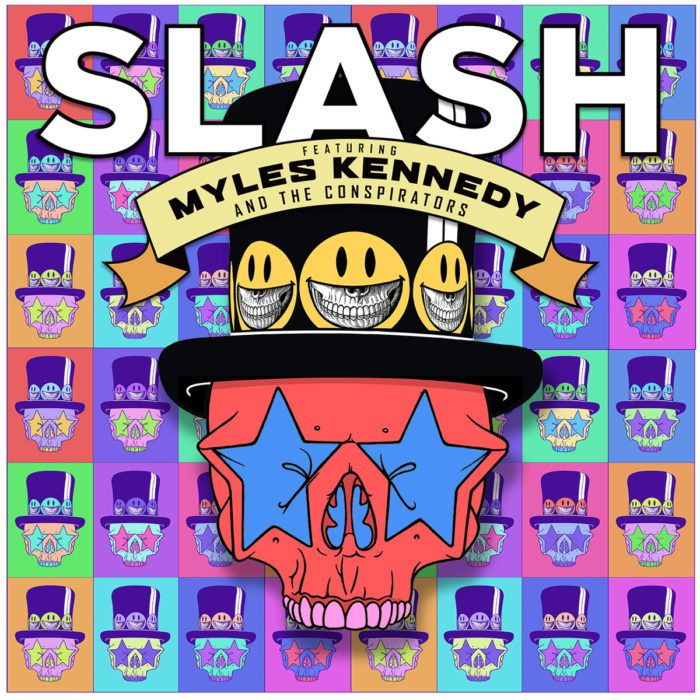 Dopo una lunga attesa dovuta alla famosa telefonata di Mr. Axl Rose (a cui seguí immediatamente il tour mondiale dei Guns'N Roses), Slash, Myles Kennedy e la fedele cricca dei Conspirators (Todd Kerns, Brent Fitz e Frank Sidoris) hanno potuto riprendere le sessioni di composizione e registrazione di 'Living The Dream' a fine marzo, facendo affidamento su uno scheletro di riff e melodie già concepite on the road durante il tour di 'World On Fire'.
Ma, mentre il produttore è restato lo stesso, Michael 'Elvis' Baskette, lo studio di registrazione stavolta è cambiato, Slash ha deciso di spostare le operazioni nei suoi nuovi Snakepit Studios di Los Angeles (un ambiente molto particolare di cui Myles Kennedy ci ha raccontato qualcosa in questa intervista), dove è stato registrato tutto (tranne le parti di batteria per una questione di 'soffitti') su un mixer a 16 tracce. Per la prima volta uno scettico Slash ha registrato, tramite Pro Tools, su digitale tradendo il tanto amato analogico ('less gear, less time, less a lot of thing', Slash, Hard Drive Radio) e, mentre lui era in tour in Europa con i Guns a giugno, Baskette ha impreziosito il tutto, regalando al disco un suono caldo e fedele ai canoni durante le fasi di mixaggio e mastering.
'Living The Dream' è un album compatto, un compendio di stili e sound abbastanza variopinti distribuiti su dodici tracce da cui traspare una inaspettata semplicità, un approccio, stilistico e compositivo, molto più conciso e diretto, abbastanza lontano dalle sonorità di 'Apocalyptic Love'. Sorprende l'assenza di lunghi momenti strumentali, di pomposi ed edonistici virtuosismi peculiari dello stile a cui Slash ci ha abituati negli anni con i suoi progetti solisti.
'Living The Dream' è un album che non fa gridare al miracolo ma si lascia ascoltare, le melodie eufoniche permangono nell'aria a lungo ma senza particolari colpi allo stomaco. È fondamentalmente un hard rock divertente ('Driving Rain'), energico ('The Call Of The Wild'), con momenti frizzanti ('Slow Grind'), altri romantici ('Lost Inside The Girl') che poi vira su toni acidi e cinici, un blues appassionato e carismatico in chiave moderna ('Mind Your Manners' e 'My Antidote'), abbastanza sporco ma spesso fin troppo ingentilito dalla vena melodica di Kennedy.Echi di Aerosmith d'annata serpeggiano tra le tracce, fa capolino un funk rock spavaldo ('Read Between The Lines') che passa il testimone prima ad un intenso groove anni '70 ('Serve You Right'), poi alla classicheggiante ma decontestualizzata 'The Great Pretender'.
L'irrequietezza di Slash ha prodotto l'ennesimo lavoro orecchiabile, un disco gradevole e leggero da tenere in auto durante i viaggi lunghi, inaspettatamente sgrassato dalla stravaganza compositiva che, proprio come il cilindro di pelle o la Les Paul Goldtop, ogni rocker che si rispetti inconsciamente associa alla sua firma.
Tracklist
01. The Call Of The Wild
02. Serve You Right
03. My Antidote
04. Mind Your Manners
05. Lost Inside The Girl
06. Read Between The Lines
07. Slow Grind
08. The One You Loved Is Gone
09. Driving Rain
10. Sugar Cane
11. The Great Pretender
12. Boulevard Of Broken Hearts
Lineup
Slash: guitars
Myles Kennedy: vocals
Brent Fitz: drums
Todd Kerns: bass, backing vocals
Frank Sidoris: guitars