Hell In The Club – See You On The Dark Side
Il 11/09/2017, di Andrea Lami.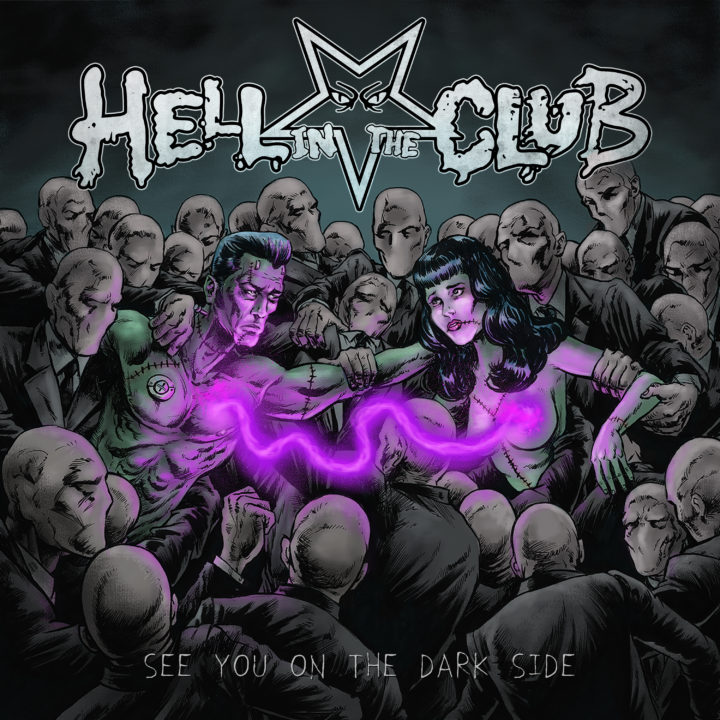 Quarto album in soli sei anni di attività per gli Hell In The Club che, in così breve tempo, si sono presentati al pubblico, si sono fatti amare, hanno suonato in vari festival prestigiosi, sono andati in tour con band già 'consacrate' ed oggi arrivano ad incidere per -la sempre attenta- Frontiers.
La pressione di un'etichetta così non spaventa il quartetto che riesce a sfornare un album all'altezza del proprio nome e del genere che rappresentano. Undici canzoni che si fanno cantare, ballare e che a fine ascolto oltre a lasciarti un sorriso divertito, ti fanno venire voglia di riascoltarle ancora e ancora.
'We Are On Fire' è il primo singolo ed è già un classico, personalmente io lo vedo benissimo come brano di apertura dei prossimi concerti. 'A Melody, A Memory' ha un crescendo fatto apposta per ammagliarvi. 'Houston We've Got No Money' è il secondo singolo, le musiche sono state scritte da Lancs, all'esordio in questo campo e direi che si è comportato benissimo. Attenzione a 'A Crowded Room' posta in chiusura, un brano atipico per questo genere musicale, della durata di quasi otto minuti che vi farà urlare con il pugno alzato. Ogni album è un banco di prova, questo quarto lavoro, come già detto sotto Frontiers, è molto significativo in quanto ci permette di valutare una volta per tutte le capacità di raccontarsi/emozionare, la concretezza ed il gusto di una delle migliori realtà italiane. Album promosso a pieni voti, prodotto da Simone Mularoni il quale si cimenta in un solo…. a voi trovarlo.
Tracklist
01. We Are On Fire
02. The Phantom Punch
03. Little Toy Soldier
04. I Wanna Swing Like Peter Parker
05. Houston, We've Got No Money
06. A Melody, A Memory
07. Showtime
08. The Misfit
09. Withered In Venice
10. Bite Of The Tongue
11. A Crowded Room
Lineup
Dave: vocals
Pico: guitars
Andy: bass
Lancs: drums